Florida Car Accident Lawyers
From our Family to Yours.

Fill out the contact form below and a lawyer will contact you to discuss your case.
Our family of lawyers has over 35 years of combined legal experience spanning two generations of the Sawan family. During this time, we have learned first hand the damage a car accident can cause. We have seen clients lives absolutely change in an instant. Since we've seen the confusion after a car accident first hand, we decided to create and publish this guide to Florida Accident law to provide some information we think all victims of negligence should know.
As experienced Florida car accident lawyers, we know all too well how debilitating and traumatic a car accident can be. The road to recovery can be difficult and painful, and arguing with the insurance companies doesn't help. We know. – all too well – that car accident claims are complex financial and legal matters. Navigating your way to a successful settlement for your car accident claim takes experience, intense focus, and persuasive advocacy.
Without strong representation, Florida victims of car accident can be left with little or no compensation. We understand the impact a car accident can have on a family, and we fight relentlessly to ensure the insurance companies and responsible parties play fair with you in giving you the compensation you deserve. We are here to help you put the pieces of your life back together after a car accident in Florida. If you or a loved one have been in a car accident anywhere in the state of Florida – the Car Accident lawyers at Sawan & Sawan are here to help.
Since 2014, Managing Partner Dennis E. Sawan has been licensed to practice law in Florida and remains in good standing. The Sawan family has deep ties to Florida. The matriarch of the family – Denise Sawan – graduated from Florida State University in Tallahassee in 1976 with a degree in education. While Sawan & Sawan has lawyers licensed to practice in 4 states, Florida remains a special place to our family.
Our family of lawyers is here to help you with your legal issue. Reach out today to schedule a free consultation.
We have over 30 years of combined legal experience.
Please fill out the form and we will get back to you shortly.
Minimum Car Insurance Limits in Florida
In the State of Florida, all drivers must carry sufficient minimum insurance when they are on the roads. Florida Statute 324.022 states that:
Every owner or operator of a motor vehicle required to be registered in this state shall establish and maintain the ability to respond in damages for liability on account of accidents arising out of the use of the motor vehicle in the amount of $10,000 because of damage to, or destruction of, property of others in any one crash.
Additionally, as of 2021, Florida Law requires that drivers hold Personal Injury Protection ("PIP") insurance in the amount of $10,000 to cover you as a driver. These Florida car insurance requirements can be met in one of two ways:
By self-insuring as authorized by Florida Statute 768.28(16); or
By maintaining an insurance policy providing coverage for property damage liability in the amount of at least $10,000 because of damage to, or destruction of, property of others in any one accident arising out of the use of the motor vehicle
No Fault Car Insurance Law and PIP Protection in Florida
Every state in the United States handles the law regarding car accident injuries differently, and Florida's laws are unique. While the issue is currently being debated and may change, as of summer 2021, Florida remains a "no-fault" state. In general, this means that when a car accident occurs, each driver looks to their own insurance to pay for their own accident. However, in circumstances where the injuries exceed the amount of insurance coverage you have, there may be options to sue the responsible party for personal injury damages.
It's important to also remember that while Florida does not currently require a driver to hold personal injury liability coverage, many drivers opt to purchase it in the event they cause damage above. the $10,000 PIP limit. We strongly advise all Florida drivers to purchase this coverage to protect themselves in this situation.
Florida's Car Accident Serious Injury Threshold
Just because Florida is a "no-fault" state doesn't mean that seriously injured drivers are stuck without recourse after a car accident in Florida. For serious injuries in Florida, the law permits an injured party to seek recourse from the at fault driver and shed the limitations imposed by the no-fault law outlined above. However, to meet this threshold, you must meet the definition contained in Florida law. Florida Statute §316.027 contains the following definition of "Serious Bodily Injury":
"Serious bodily injury" means an injury to a person, including the driver, which consists of a physical condition that creates a substantial risk of death, serious personal disfigurement, or protracted loss or impairment of the function of a bodily member or organ.
While a wide variety of injuries can fall within this definition, injuries that are most commonly considered to be "serious bodily injury" under this Florida Statute include such injuries as:
Permanent or Significant Disfigurement; or
Fractures of Bones; or
Any injury that leads to the permanent limitation of the use of a body organ or part; or
Substantial total disability that lasts 90 days or more; or
Traumatic Brain Injuries
Florida Car Accident Statistics
According to the Florida Highway Patrol, there were a total of 400,788 car accidents in Florida in 2019. Of those car accidents, there were 3,217 unfortunate fatalities on Florida roads the same year. Of those 400,788 car accidents, 254,342 resulted in some form of injury. There were also a total of 6,642 collisions between bicycles and cars in Florida in 2019 – with 146 of them resulting in a traffic fatality.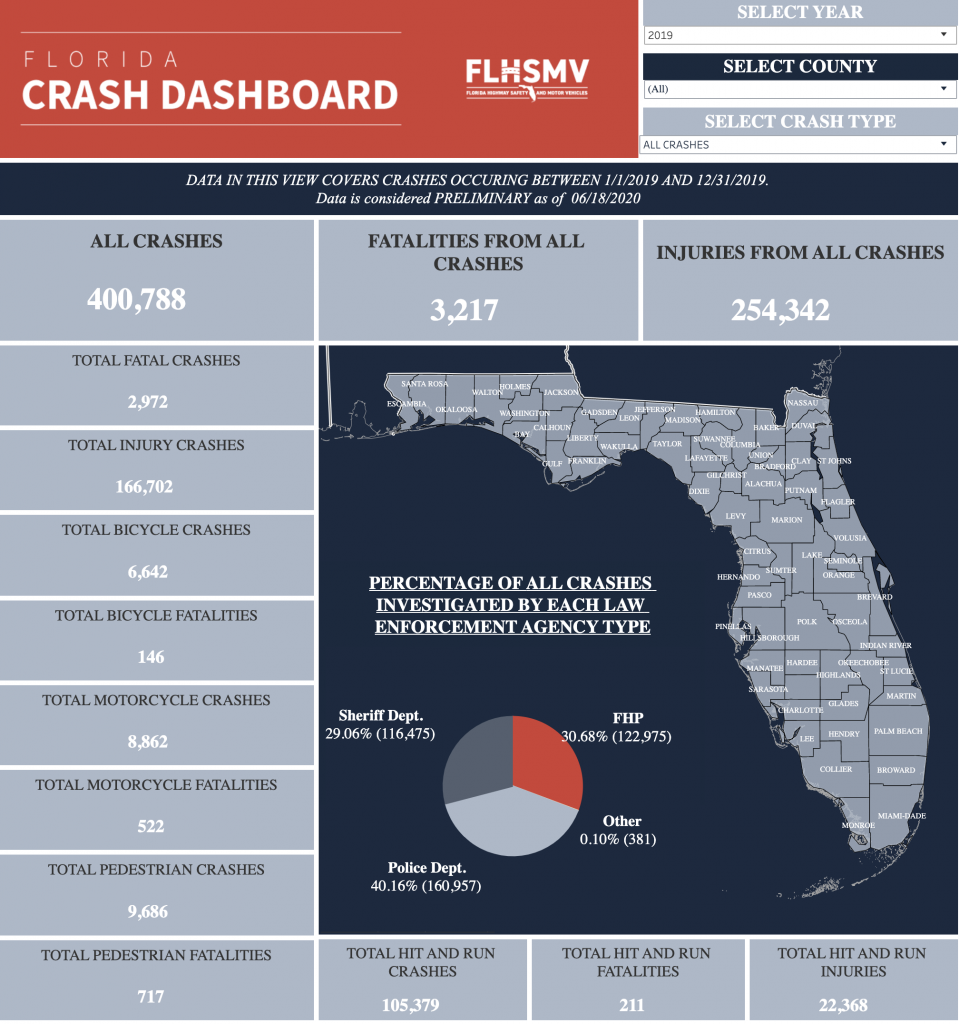 What Should I Do If I've Been in a Car Accident in Florida?
First and foremost, you should never leave the scene of an accident. In fact, Florida law Section 316.061 requires you to stop "at the scene of such crash or as close thereto as possible." Once you have safely stopped, and ensured you are not in the flow of traffic, the next step is to gather information.
You want to be sure to collect the names, addresses, and phone numbers of any witnesses, or others involved in the accident. It is also advisable to take photographs to document skid marks, vehicle damage, road obstructions, and injuries if you are physically able to. Remember, your phone can be a huge help when you are gathering evidence. If it's accessible, it's always a good idea to use your phone to photograph the accident scene – including the orientation of cars, any skid marks and anything else that you believe is pertinent to your case.
Do I Need a Lawyer If I'm in a Car Accident?
What is the Financial Impact of a Car Accident?
The unfortunate reality of a car accident is that it can have a devastating financial impact on your life. If you're injured in a car accident in Florida, you will incur medical expenses for the treatment of your injuries. The average car accident in the United States is estimated to cost tens of thousands of dollars per accident. For a serious injury in a car accident, the medical expenses can be in the hundreds of thousands of dollars. Of course, the most important thing if you were in a serious car accident in Florida is to obtain the medical treatment you need to ensure you return to the best health possible and can continue your life. It does beg the question, however, as to how these medical expenses should get paid? Most people have both private health insurance, as well as some coverage under a car insurance policy for medical payments (called "med-pay" for short).
It's important to note that health insurance may not cover the entire cost of your medical expenses and this often leaves a bill that needs to be paid out-of-pocket by the car accident victim. While the medical expenses you pay out of back should be paid back out of any compensation you receive, it can be burdensome for car accident victims to pay this cost upfront while awaiting the potential settlements of their claims. In such circumstances, it can be an effective option to exhaust "medpay" benefits under an applicable insurance policy before utilizing private insurance. This is possible because "medpay" benefits under automobile insurance policies will cover the entire amount of the medical bills until the policy limit is exhausted, allowing car accident victims to avoid the necessity of big out of pocket expenses.
Most Common Causes of Car Accidents in Florida
Improper Lane Change/Passing/Off Road
How Much Does a Florida Car Accident Lawyer Cost?
What Type of Compensation Can I Get After a Car Accident?
We have extensive experience dealing with Car Accident claims, and as a result, we are uniquely aware of the consequences a car accident can cause. As a result, the team of Florida Car Accident lawyers at Sawan & Sawan fight aggressively to get victims what they deserve. While every case is different with respect to the damage caused, our family of Florida Car Accident Lawyers seeks compensation for the following:
How Much is My Car Accident Worth?
Choosing the Right Lawyer
Before hiring a Florida Car Accident Lawyer, schedule an initial consultation. At that first meeting, which generally is free, you will have an opportunity to interview that attorney concerning their qualifications. This will help you determine if this is the attorney you would like to handle your case. You will be looking for an attorney that has experience, knowledge in their respective practice, and who not only listens but patiently answers your questions. That attorney should provide you with a realistic award estimate and whose case- management strategy agrees with your expectations. Finally, you must determine if the attorney fee is fair and reasonable.
As to background and experience, begin the meeting by asking the lawyer about their professional experience and background. The following questions may help:
As to legal philosophy and style, you can ask the attorney about their personality as an attorney. What is their approach to handling a case? What is their philosophy or style in a case? Do they present options and ask me to make a decision or do they tell me what I should do? Do they believe in settlement or trial?
As to the assessment of the case, factually discuss the matter with the attorney. Be specific and include all witnesses and their story. Include the time frame, the location, and all of the parties. This information will be confidential. What potential outcome do they see? What about problematic issues in the case? Will these issues effect the outcome? What are the chances of settlement versus trial? Can the matter be arbitrated or mediated?
When looking at case-management, you need to ask if the attorney is available to assist you. Will that attorney handle the case or will it be given to a paralegal? Who will be doing what in your case? How often will you be contacted for updates? What will be the best number to reach you at?
Finally as to fees, most attorneys work on either an hourly rate or by contingency. A contingency means there will be no upfront attorney fees, but the attorney will take a percentage of any financial award you receive. The costs will be your responsibility. Sometimes an attorney will front the costs and recover them in a financial settlement.
Ultimately, you will want a Car Accident Lawyer in Florida who has the skills and expertise to handle your case, who provides good advise, who has a strategy you agree with, who has realistic award estimates and who charges reasonable legal fees.
As car accident attorneys, we find that many clients have similar questions after being involved in a car accident. To try to help, Sawan & Sawan composed a series of videos with answers to frequently asked questions.
What Should I Do After a Car Accident?
First of all, you you have to make sure everyone is alright, including yourself. Second impact collisions are often the most dangerous, so getting out of the flow of traffic is vital is you are able to. Secondly, you have to try to remain calm although that's very difficult because you were just in an automobile accident. You want to take photographs of the scene, including your vehicle and the other vehicle. Lastly, you want to make sure you fully cooperate with the reporting officer for you have a good record of the incident.
Should I Make Statements at the Scene of a Car Accident?
Statements at the scene can be used in a Court of law, and can hurt your case if those statements don't necessarily cover what happened in the accident or you make a statement out of emotion. So you generally do not want to make statements, but you do want to ensure you get witness information. You have to remember that the courthouse is not held in the street and there is a process for determining fault, so you need to let the process play out. Arguing about fault at the scene really doesn't serve you.
How Soon After a Car Accident Should I Get a Lawyer?
The sooner you speak to a car accident lawyer, the better. You want to get a lawyer just as soon as you can so that that lawyer can get involved as early as possible to ensure that everything is preserved, that your rights are protected and to make sure there is a good trail of documentation from the date of the accident.
How Much Does it Cost to Speak to a Car Accident Lawyer?
In short, it costs nothing to speak to a car accident lawyer. Free consultations allows you to get the legal advice you need to protect your rights without excessive cost. If you choose to hire a car accident lawyer, we generally work on a contingency fee – which means we only take a fee if we are successful in resolving your case or winning at trial. To schedule a free consultation, call 419-900-0955 today.
Should I Contact Insurance Companies After a Car Accident?
You have to remember that insurance companies have legions of trained adjusters that know how to get information out of you to minimize your claim – so it's important that you speak with someone that represents your interests before speaking to an insurance company. If the insurance company for the driver that hit you gets wind of the accident – which they often will from their insured – they will likely contact you and more often than not offer you a very low settlement amount. If an insurance company is calling you, we advise speaking to a car accident Attorney before you speak to the adjuster.
Helpful Florida Legal Links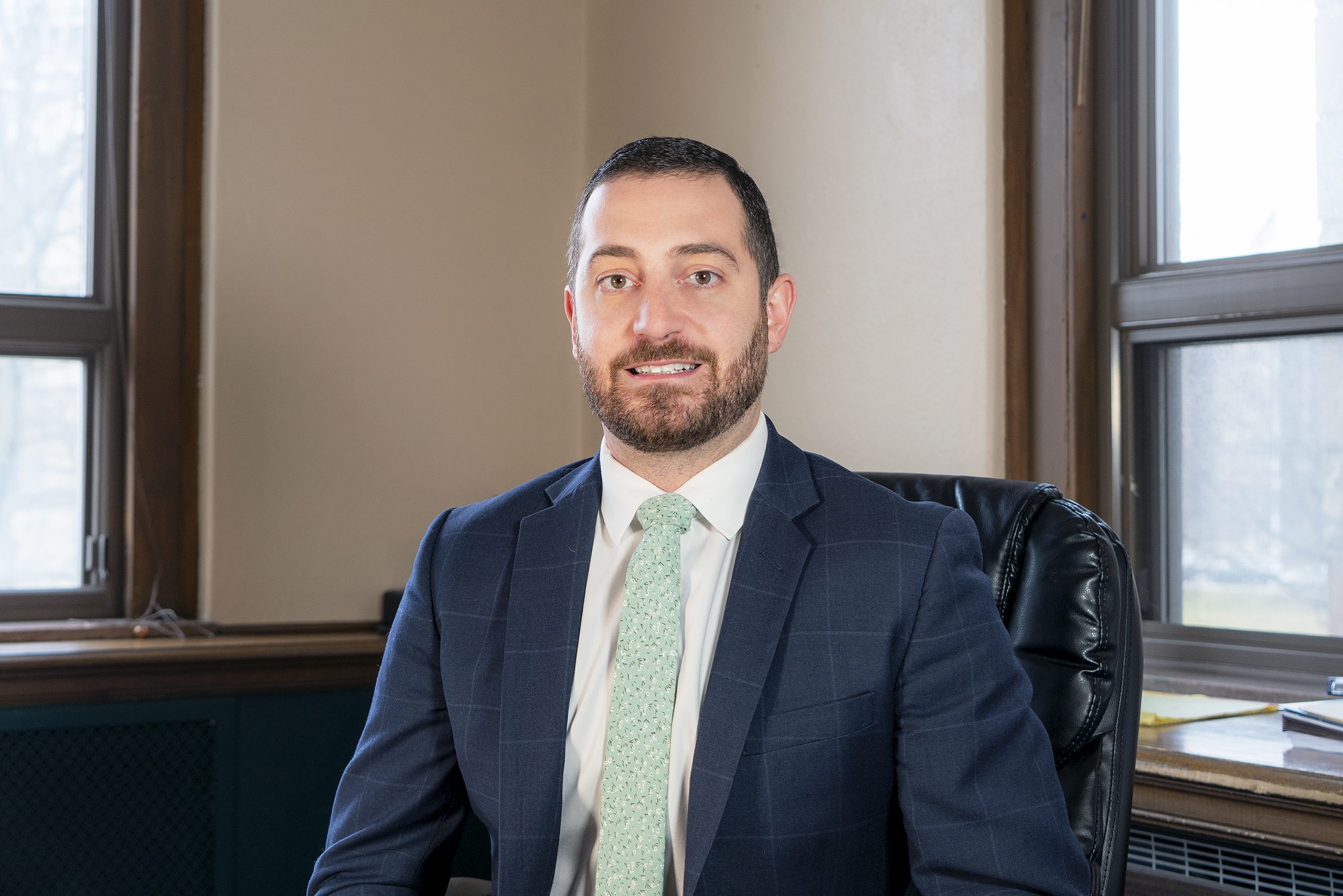 Dennis E.
Sawan
Licensed in Ohio and Florida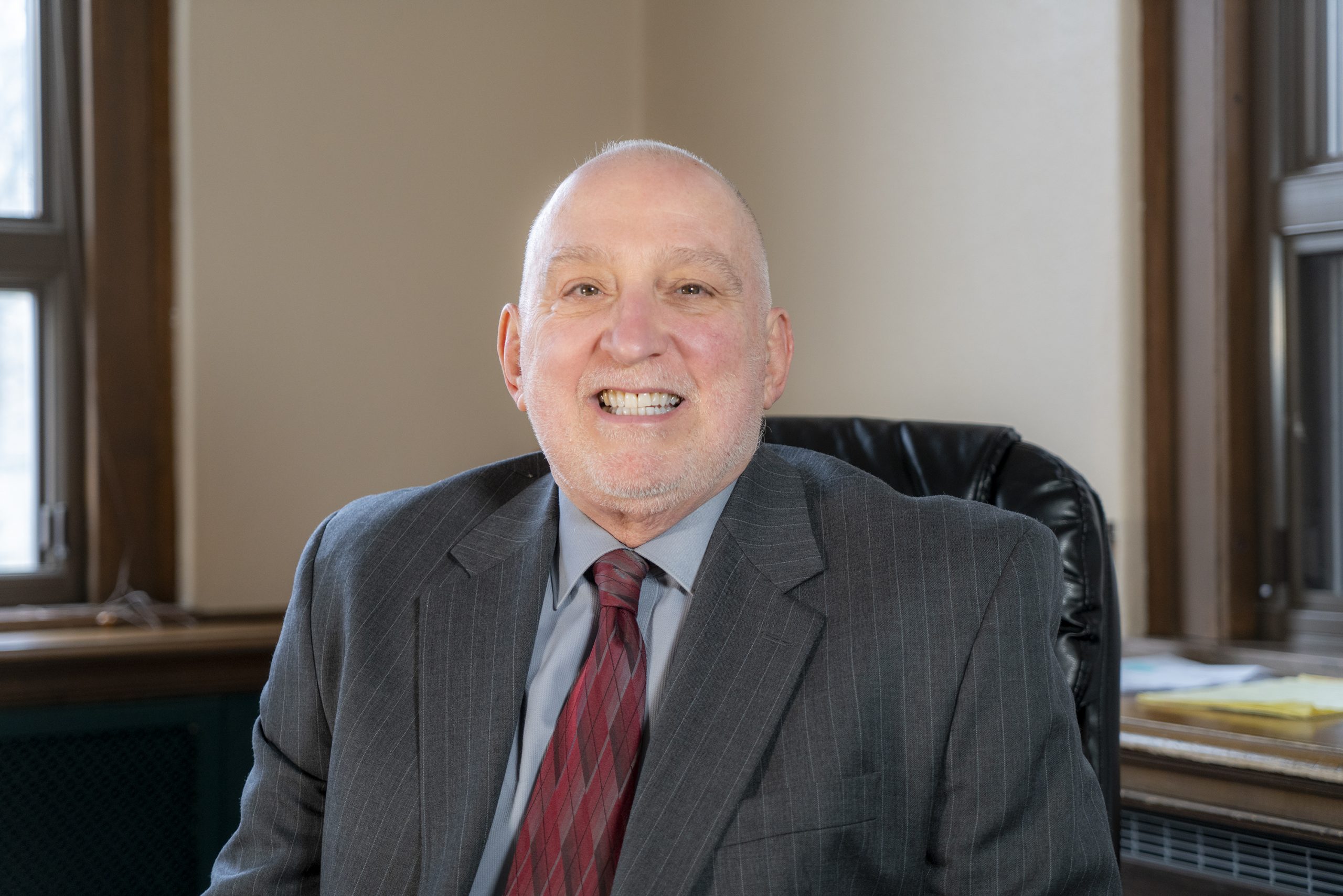 Dennis P.
Sawan
Licensed in Ohio and Georgia
Christopher A.
Sawan
Licensed in Ohio and Michigan
Contact an Attorney today to discuss your case.
At Sawan & Sawan, we offer free initial consultations. We represent clients in Ohio, Georgia, Michigan and Florida. From our family to yours.
discover our latest Articles